The Proces Data PD340 meter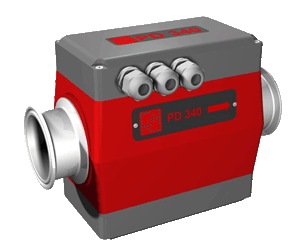 The PD 340 flow transmitter is a precision meter for the volumetric measurement of liquids, which are electrically conducting. The meter is hygienic and has a 3-A approval. Designed so that changes in flow profile do not affect accuracy, the meter is accurate over a wide range of flow rates.
Sizes available:
| | | | |
| --- | --- | --- | --- |
| C25 | 1" | Flow rates up to | 133 litres/minute |
| C38 | 1.5" | Flow rates up to | 333 litres/minute |
| C51 | 2" | Flow rates up to | 667 litres/minute |
| C63 | 2.5" | Flow rates up to | 1,333 litres/minute |
| C76 | 3" | Flow rates up to | 2,000 litres/minute |
| C102 | 4" | Flow rates up to | 3,333 litres/minute |
Since the meter utilizes a P-NET fieldbus connection, there are no "pulses" to count. Therefore the collection information is held both in the meter and the controller during a collection. A second counter is also available for added security and versatility.
Client And Sample Identification
GPS:
GPS is especially suitable for milk tanker operations as it removes the necessity for badges and tags which can be easily lost or damaged. Additional security is also achieved since the location of each transaction is recorded.
Piper GPS can also be integrated into a route optimization package
Barcode:

Barcodes can be used to identify suppliers or customers. Drivers can also use barcode badges to sign on at the start of a trip. A barcode label on a sample bottle can be used to identify a farm or to link a sample to a specific transaction
RFID: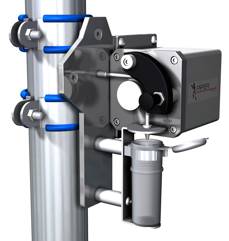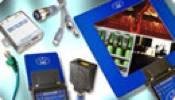 Radio-frequency identification (RFID) can be used to identify farmers, drivers or delivery points. The major advantage of RFID is that data can be written to the RFID tag or transponder for additional security. RFID can be either close or long range – as required by the application
The Piper Sampler – Better by Design
Samples, representative of milk being collected or delivered ensure quality and traceability. Since the sampler speed is directly related to the speed of flow, samples are representative and accurate.Carryover between samples is minimized and the sampler is suitable for tests to determine the presence of antibiotics. The Piper sampler is designed with hygiene in mind. Replacement of the microbore pumping tube is simple and straightforward.
The Sampler supports a full CIP programme when used in conjunction with Piper Milk Metering Systems. Sample size can altered to suit different applications. Accuracy of fitting (and therefore of performance) is assured by the unique design which ensures that installation is uniform and correct.
The Piper sampler is robust and has its "intelligence" protected within the Piper cabinet.
The Piper System – Position for efficiency
The Piper GPS and GPRS modules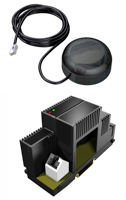 The Piper GPS/GPRS system consists of a PD664 GPRS module, programmable PD601S module with base units, and a marine standard programmable GPS antenna. Automatic farmer or customer identification is made by location. The unit also verifies the location at which any transaction took place.
GPRS is used to transmit data back to a server. Because the data transfer channel is always open, data is transmitted back to the server immediately after each transaction, permitting real time planning of milk collection and delivery according to processor and farmer needs. In addition to the upload of collection data, information and instructions can be downloaded to tankers at any time.
The combination of GPS and GPRS means that information on tanker location and status is always available, Also available is location of suppliers and delivery sites, together with expected volumes from suppliers. All this information can be shown on mapping software to assist efficient load planning.
The Piper System – Simply Excellent
Printers and printed records
Piper Printer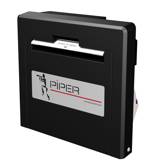 The printer has been designed to work on milk collection tankers. It is panel mounted and matches the size and shape of the PD681 display and keypad unit. The standard 112mm paper roll is simply loaded from the front and the unit has a built-in tear bar. Printing is fast and clear.
Epson Standard
The M series metering system includes an RS232 interface to allow printing of data on third party printers.
Design your Receipt
M software allows you to download your own format so that each receipt shows exactly the information you wish – as much or as little information as you choose. At the end of each trip, the printer will produce a summary showing each collection. Again, you choose the level of detail you require. The system will also print individual messages for each farmer, allowing it to be used for the delivery of important information such as sample test results or high milk temperature warnings.